Jessica Colbert


John Cowper's relation with Jessica Colbert who became his agent in San Francisco in 1922 was quite a different matter from his relation with Arnold Shaw. She had been recommended to John Cowper by old friends of his, Colonel Charles Erskine Wood and his wife Sara Bard Field. Jessica Colbert had some financial interests in the lecture circuit, but was far more taken by theatrical ventures. She was associated with Maurice Browne, from the Chicago Little Theatre, an old friend of Powys. Her office was located at the recently-opened Plaza Theatre, 80 McAllister Street, in San Francisco.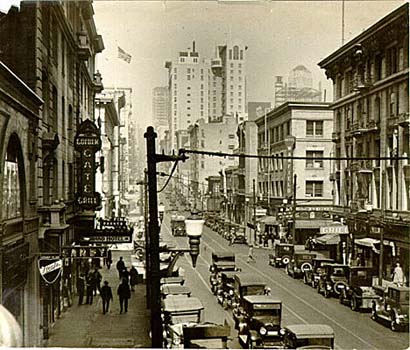 Taylor Street at Golden Gate Ave. in 1926,
a few blocks from the Plaza Theater.
San Francisco History Center, San Francisco Public Library
In fact, as mentioned in his letters at the time, Jessica Colbert had commissioned John Cowper to write a play and Paddock Calls was going to be played at the Plaza Theatre in March 1923. (Nothing finally came of it.) Owing to Jessica Colbert's neglect of her duties as manager, John Cowper soon became quite worried about the state of his finances and the absence of lectures: the demands his wife made on him were heavy and he felt he had to meet them.

The worst of it is I seem so much in her hands financially that I get nervous of speaking out my mind as I could wish to do! These women with strong natures and shrewd brains and so on are very terrifying to me! I feel like the Tsar of Russia in the hands of Queen Victoria! (Letters to His Brother Llewelyn, April 1, 1923)

Although she entertained extravagant plans about the future, including taking him to Honolulu and China, Jessica proved quite inefficient as a manager. John Cowper was glad when he came back to New York after that difficult year in California.
---