Frances Gregg (1885-1941)


How to describe her? A close friend of Ezra Pound and Hilda Doolittle (H.D.) she became the most important person in John Cowper's life, his feminine counterpart, the alter ego he had sought but could not marry. She was born in 1885 and her childhood was spent in the towns and outposts of the Middle West. John Cowper met her in Philadelphia in 1912, was madly in love with her but being already married, he arranged for her marrying his close friend, Louis Wilkinson. This situation will lead to some serious problems between the three.
John Cowper's feelings for Frances were a compound of love, despair and sadistic impulses and in 1916 he suffered from acute depression as a result of this badly-managed affair. Louis and Frances divorced a few years after their marriage. Frances led an adventurous and difficult life, for with very little means she had her two children as well as her mother in her care.
This formidable woman, her mother and her daughter met their death in the Fortress of Plymouth, England, on Monday night, 21 April 1941, during an air-raid. She had written poems and short stories, and also The Mystic Leeway, a strange but fascinating account of her life and ideas, which Powys had encouraged her to write.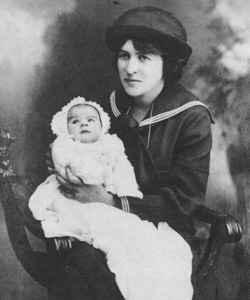 Frances with her son Oliver (aged 6 weeks), 1915
(Courtesy of Christopher Wilkinson)

Here is an instance of her characteristic style, a strange mixture of passion and wry humour:
I was born into the world in America at a moment when the odd phenomenon of a social conscience was shaping to confound and startle the naiveté of that continent. My grandmother was a lecturer on 'Woman's rights' and 'Temperance'. I marched in a parade with banners inscribed with 'Votes for Women' before I was six. I signed the pledge when I was eight; and trailed up the sawdusty steps of a Camp Meeting platform to avow myself 'a child of God' in skirts too short and wisps of hair flicking against my burning cheeks, when I was ten.... Ladies with 'Movements' declaimed at me and predicted a great future for me. I played up to them all with the cynicism common to the young, and as they were all extremely hideous ladies I shunned their 'Movements' and became an atheist on my own, but I had learned that 'women were wronged' and man 'the great enemy'.
(The Mystic Leeway, by Frances Gregg, Carleton University Press, 1995)