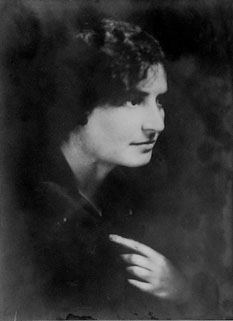 Marian Powys
(photo courtesy Louise de Bruin)
Marian Powys, sometimes called 'May', was the strong-willed sister, the only one of the girls who rebelled, fled her parents' house and rural England in 1913 and settled permanently in New York. John discovered with some amazement...

...May's self-assertiveness, independence and granite-based will-power. She is what you call a strong character — like all the other female butterflies it has been my destiny to deal with. She is powerful, capable and very high-spirited. With a perfect mania for 'going into Society' of every and any kind.' It is different from living with Theodore, I can tell you. (Letters to his Brother Llewelyn, 22 October 1914)

Marian studied art, and the techniques of lace, at a time when Art Nouveau and the William Morris Arts and Crafts were taught. After studying lace at the Yeovil School of Art, financially helped by one of her aunts, she travelled on the Continent to Belgium, France, Italy, Switzeland and Hanover in Germany where she spent six months, studying history and the theory of design, absorbing every aspect of the lacemaking history across the continent. It is to be noted that she had a wide knowledge of the classics as well as of myths and legends, which allowed her to better understand the stories woven into old laces. But she had determined early never to live the life expected of the daughter of an English country clergyman, and under the pretext of taking care of her brother John Cowper who was settled in New York, she left England in 1913, because, as Marian wrote later, she was convinced that "America offered a woman far greater opportunities for success than any country in the world."
After working for some time as a stenographer for Singer at Broadway and Liberty Street, and continuing to study lace and designing it (one of the laces she designed won a gold medal at the 1915 United States Panama-Pacific International Exhibition in San Francisco) but also studying accounting and business management, she was able in 1916 (helped by a loan from Theodore Dreiser and from the philanthropist August Heckscher) to open her first shop, Devonshire Lace Shop, 60 Washington Square, "looking right through the Arch all the way up Fifth Avenue to the heart of Manhattan", as she would fondly remember, later moved to 51 West 57th Street. It became the leading international lace exchange of the city and Marian provided a variety of advisory advices for museums around the country. Between 1918 and 1930, museums were competing in acquiring collections, including of lace. As her son Peter Powys Grey reminds us, Marian as well as being an expert was also
an historian, maker and designer all in one, and regularly incorporated Art Nouveau, Art Deco and Cubist motifs into her own delicate work. Stressing the desirability of leaving behind 19th-century styles, she utilized air-planes in a triangular veil made for Anne Morrow Lindbergh, and was apt to cite Jackson Pollock as a source of inspiration for younger lace designers. (Peter Powys Grey, American Craft, August/September 1981, reproduced in The Powys Society Newsletter, July 1999)
She was also innovative in her own work and, inspired by her superb garden at Sneden's Landing, was the first to incorporate into her work the flora of New York State and New England, such as the dogwood and the tulip tree, or the skunk cabbage. Her clientele included among others Eleanor Roosevelt, the Morgans, Fricks, Rockefellers, Harkness, Morrow, Blumenthal, but also people from the theatre (Katharine Hepburn, Rollo Peters, Jane Cowl, Isadora Duncan) and foreign dignitaries, such as emissaries of the Vatican, English royalty, the Bourbons...
Unfortunately, due to the change in taste, by the end of World War II the value of lace dropped. Determined to devote her energies to the preservation of lace, she closed her shop in 1945 and started a series of conferences as well as conducting seminars in order to crusade to lift the "cold winter of benign neglect" that overtook antique lace. In 1946 she was appointed consultant to the Metropolitan Museum of Art. In 1953 she published Lace and Lace Making, the major 20th-century work on the subject, with a foreword by her brother, John Cowper. In 1952, there was an exhibit of her work at the Tibor de Nagy Gallery in New York and, thirty years later, Peter Powys Grey organised another exhibition of his mother's collection, "Lace and Pearls" at a midtown gallery off Fifth Avenue. To the end Marian remained an ebullient, passionate woman, rhapsodizing on lace and its beauties. We will leave the last words to her:
A pattern for lace must have clean lines, exquisite proportions, and a fine sense of fitness and economy; but there must be more than that. There must be imagination and human sensibility. At times, a design may even have a touch of something beyond the lines, an illumination, an inspiration.
For more information, see the Peter Powys Grey article cited above and also Elizabeth M. Kurella, Keeping Lace Vibrantly Alive: A Tribute to Marian Powys, The Powys Society Newsletter, April 1998.